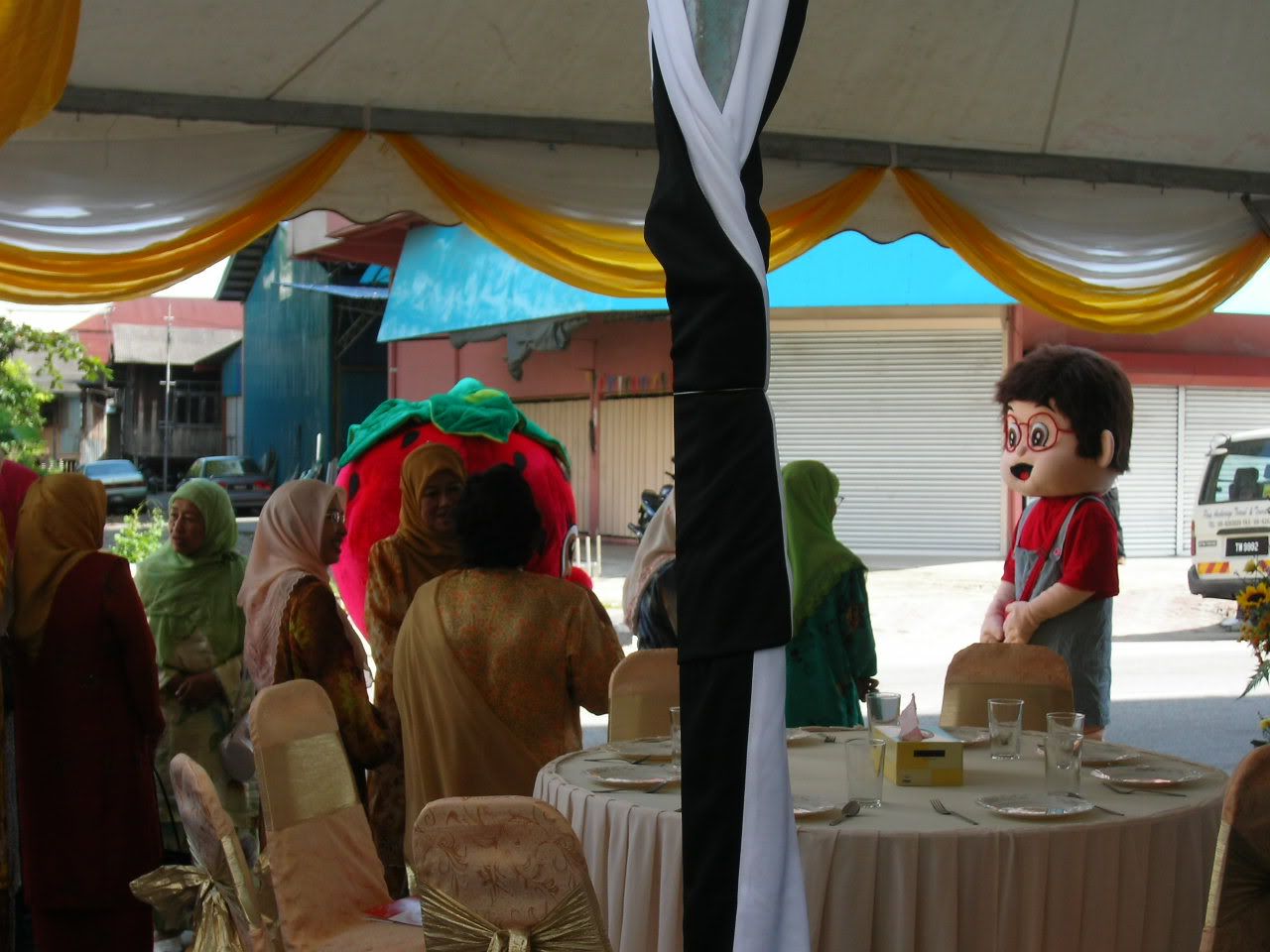 Well, I woke up at 9a.m., to Annie Lennox's "No More I Love You's". Then I wondered what time the thing was supposed to begin. Lay in bed until 9:15a.m., when Mum opened the door to my room. I asked her what time the ceremony was to start and she said that I had to be ready by 10:15a.m.
Did the usual bathroom rituals, made myself toast and margarine and Mum's homemade strawberry jam. Was 'reminded' (read as 'nagged') to apply make-up. Had to change the outfit I had on because both my parents thought it didn't look nice. Changed. Applied lotions and potions and foundation. That's it. Our ride had arrived and I just remembered to wear my watch, my rose quartz bracelet (supposedly effective in drawing out all those prospective suitors and make them fawn at my feet -- hasn't worked yet) and my glasses.
Parked the car in the Yen Tin Midtown Hotel guest parking after explaining to the friendly police officer that we were there for the opening ceremony. We walked for about 20 metres until we reached the tent where the VIP tables, buffet table and chairs for the 'common people' were.
I saw two unfortunate souls dressed as the school mascots (a big-headed kid and a giant strawberry). It was hot by 11am. They must have sweated buckets. Small kids were sneaking up behind the strawberry to get a feel of the material. It seemed like the strawberry was being molested without its knowledge. (If you look closely at the pic below, you can see the impression of fingers above the black 'seed').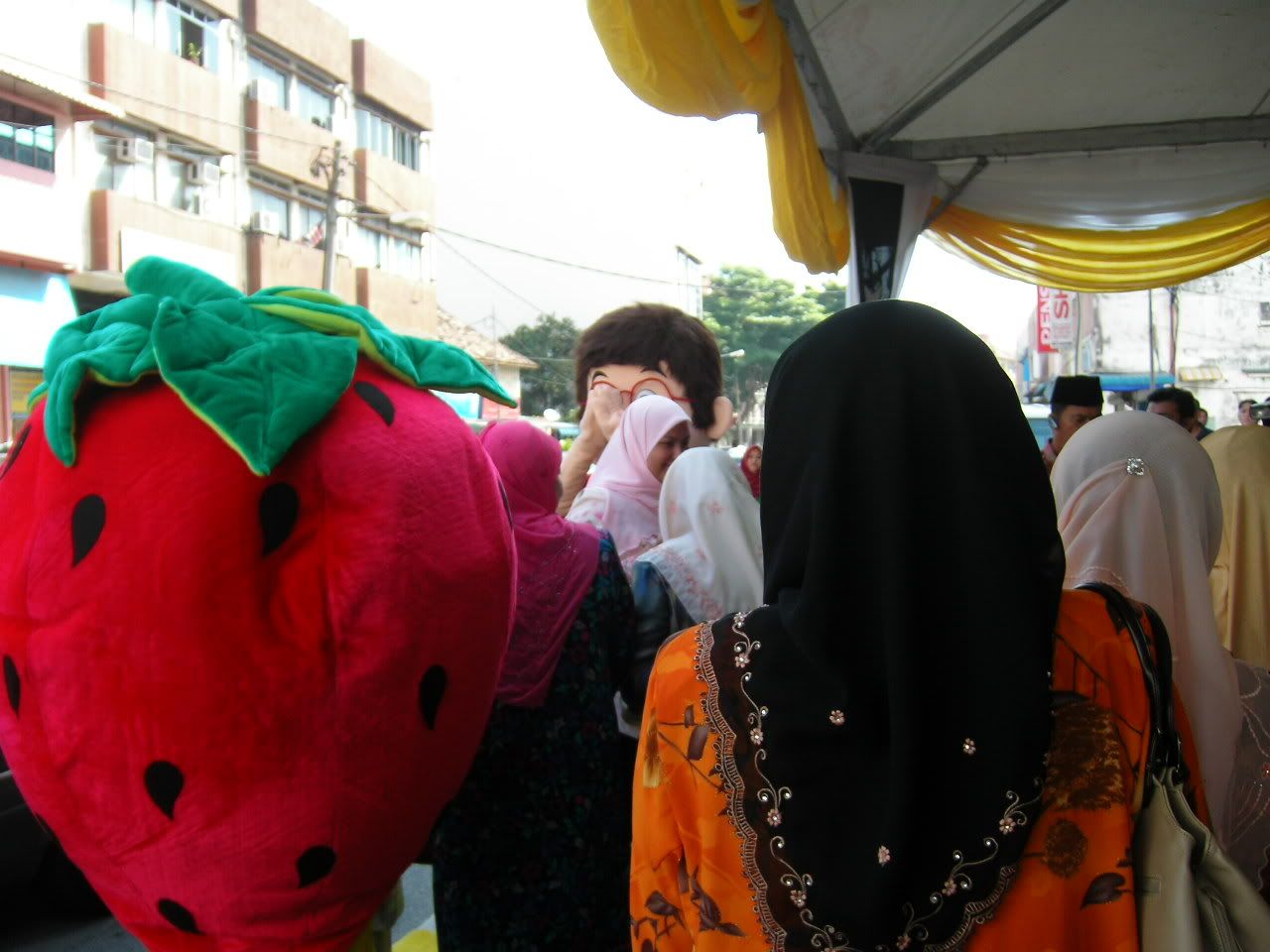 Soon, the sirens of the police outriders were heard. The Sultanah arrived in a car fit for royalty, walked on the yellow carpet and was greeted by the awaiting VIPs. She cut the ribbon (I think it was ribbon, I couldn't see anything behind the throng) and entered the brand-spanking new premises of the Smart Readers school. Went back to our plastic chairs. I was coaxed by Mum to check out the back entrance and get a pix of the Sultanah if I could. No, it was blocked with kids waiting to perform. And there was a police officer there too. So I just took a pic of the kids.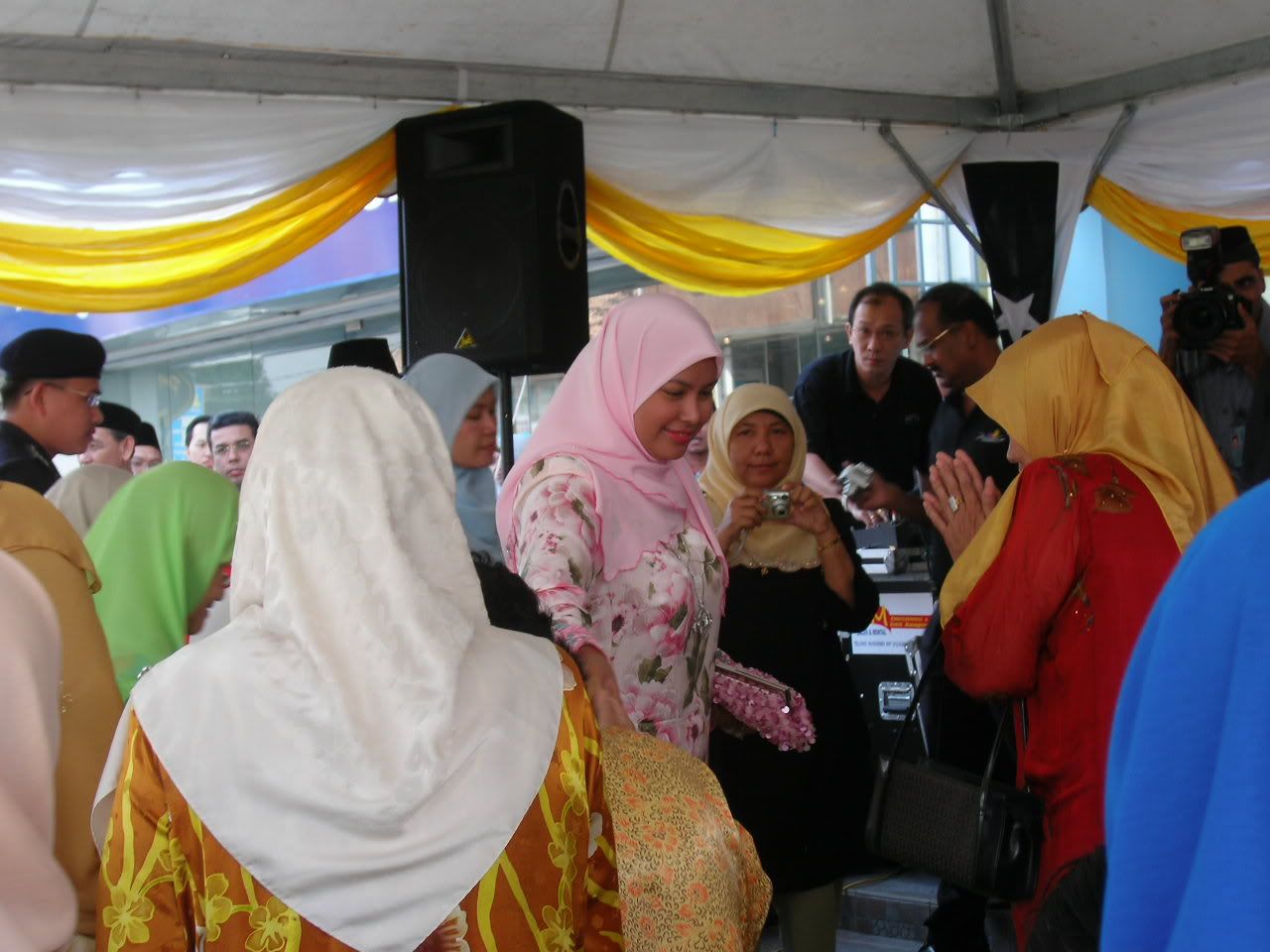 Then, it was time to eat. All there was was 'mi goreng'. And jellies and doughnuts and curry puffs. I had a small helping of noodles, a very hard doughnut and a curry puff before Mum talked to one of her many friends who works there. We were then brought upstairs, where it was cooler and had another spread of food. I think it was actually meant for the security detail. But there was plenty for everybody. I didn't eat much, just a fruit tart (had slices of peach, kiwifruit, half a grape, dragonfruit and whipped cream), a piece of 'roti jala', and a packet of Chrysanthemum Tea.
Later, we went upstairs to check out the dormitory. Incidentally, the floor we were on was to be the reception area. There was a room that could fit seven occupants and the door was two steps away from the reception desk. Upstairs, were two more floors with better rooms. Some had twin beds, other's had a double and a single, or a double and twins. Looked like there was a room for every preference. One room had a bathroom attached with heated shower, while the rest had a common bathroom (with heated shower) and kitchen area. All rooms were air-conditioned and had a TV. Looked comfortable enough. I'd have taken a pic, but the rooms hadn't been prettied up with bedsheets yet.
The Sultanah left by 12:30pm and we left soon after checking out the school proper. As we passed by the head honcho of the franchise, the family friend told her, "These are the parents." Only Mum's friend in the middle was a parent. I'm sure she must have thought me an unlikely parent.

It's time for dinner. Take care all!